At Chicago Bike Grid Now, we're working hard to make our city a safer place for everyone. That's why we're demanding 10% of our streets have safe infrastructure for bike and pedestrian use. To show the city we mean business, we're taking direct action by encouraging everyday Chicagoans to fight for the safe streets they deserve. Whether we're slowing down traffic on purpose or creating safer ways to get around the city, we're constantly creating new, fun ways to fight for the bike grid. Join us in our mission to make Chicago a safer place for all!
Why direct action?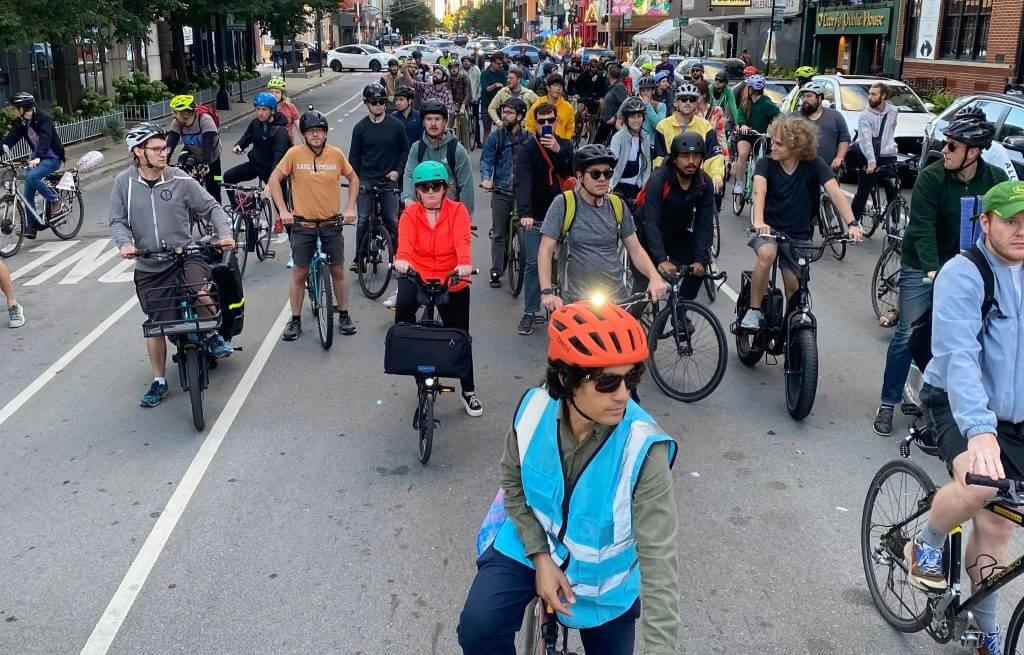 Chicago, Bike Grid Now is working to make our streets safer for all. Our grassroots campaign is how we can collectively pull to bring transformational change to Chicago and beyond. Direct action and grassroots activism are our main tools for making the change we want. Here's why:
Visible impact: Direct action, like our Bike Jams and Bike Buses, creates a strong visual impact that captures public attention, making it harder for officials to ignore our demands.
Community engagement: Grassroots campaigns bring people together, fostering a sense of community and empowering every Chicagoan to take a stand for safer streets.
Urgency: Direct action and activism help convey the urgent need for a bike grid, pushing for immediate change and keeping the pressure on decision-makers.
Inclusivity: Our events are open to everyone, including those on foot, scooters, wheelchairs, skateboards, and more. We want to ensure that all voices are heard and represented.
Creating momentum: Direct action generates momentum, inspiring more people to join our cause and amplifying our message for safer streets.
We need the Mayor, Alderpeople, and City Officials to do something that shows they are serious about making it safe to move around the city on a bike or as a pedestrian. The City needs to see that Chicagoans are fired up, engaged, and on the march for change.
While working with politicians and city hall is essential, we believe that direct action and activism can be powerful tools to complement advocacy efforts. Together, we can bring about real change and create safer streets for everyone in Chicago!
Our actions
Our community-driven initiatives are not only impactful but also enjoyable and engaging, fostering a sense of camaraderie among participants. From Bike Jams and Bike Buses to creative protests and awareness campaigns, our actions are designed to capture public attention, inspire change, and showcase the incredible power of community engagement.
Bike Jams: Slow Rides, Big Impact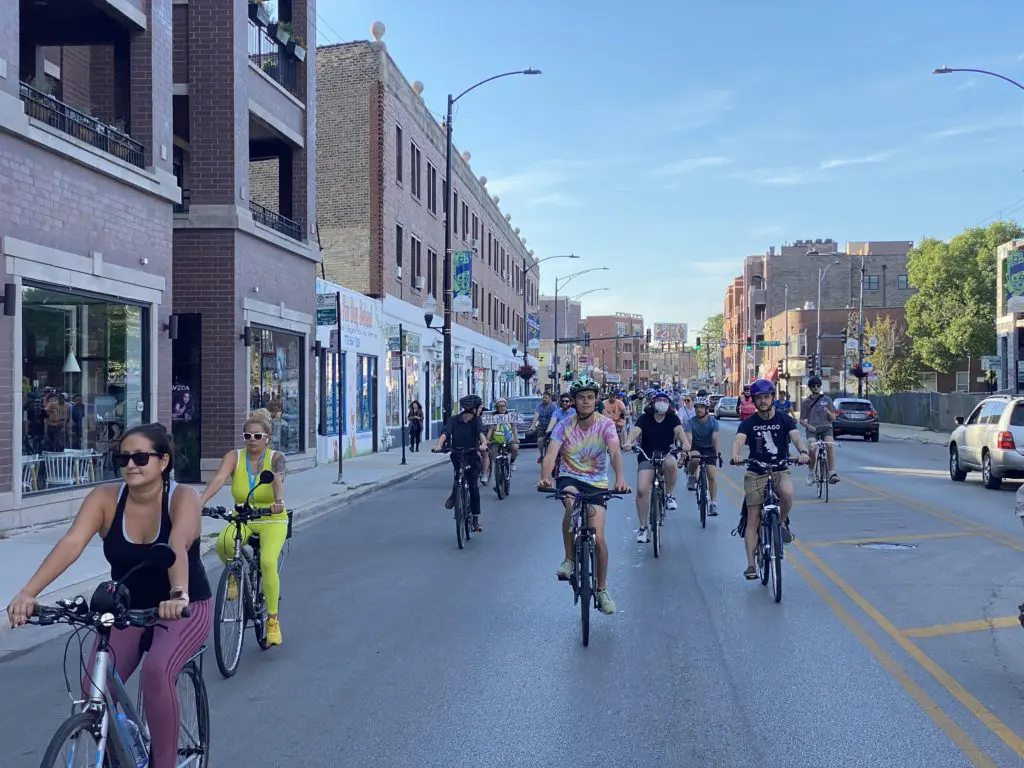 Bike jams are super slow, fun-filled rides with a purpose: to draw attention to the need for safer streets infrastructure in Chicago. We ride together on bikes, Divvys, skateboards, unicycles, e-bikes, cargo bikes, and more! Whether it's a small group of 9 people or a huge group of nearly 300 riders, everyone is welcome to join us.
Feel free to bring signs and connect with bystanders. Our bike jams usually cover 3-4 miles at a leisurely pace of about 4 mph. Don't worry, we're considerate riders! We keep bike lanes clear and always make way for buses and emergency vehicles.
Our bike jams are also a fantastic opportunity for elected officials and candidates to talk to their constituents about their plans for making Chicago safer for all. So come join us as we raise awareness and share our ideas for a better Chicago!
Bike Buses: A Fun, Safe Way to Get Around Together!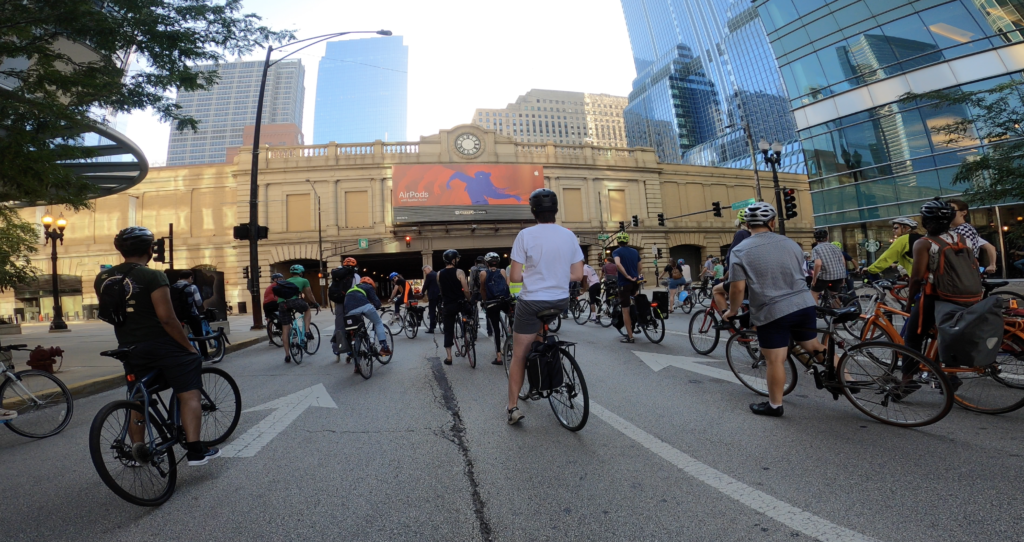 Tired of unsafe commuting? Meet bike buses, our creative solution for safer travel where the city's protective infrastructure might not quite cut it. Say goodbye to risky rides! By gathering in numbers and riding together, we create safety in numbers!
Our most popular Bike Bus is the morning commute to the Loop, but we've also organized rides to events like the Chicago Fire game with Chicago Family Biking, the "I'm Late Protest" with Commuters Take Action, and our monthly City Hall Bike Jam.
Wondering how to join? Just check our posted route, stops, and bike bus tracker here. We ride at a comfortable pace of around 10 mph, and everyone is welcome – all types of wheels are invited! 🛴🚲🛹
So hop on and join our friendly Bike Buses for a safer, more enjoyable way to get around the city. We can't wait to see you there!