Chicago, Bike Grid Now! is an activist organization formed to mobilize the public and compel elected leaders to implement 450 miles of cyclist and pedestrian-prioritized roads (the bike grid).
We use direct action tactics, like our bike jams and bike buses, to raise public awareness and convert it to a sense of urgency with City Hall and CDOT (Chicago Department of Transportation).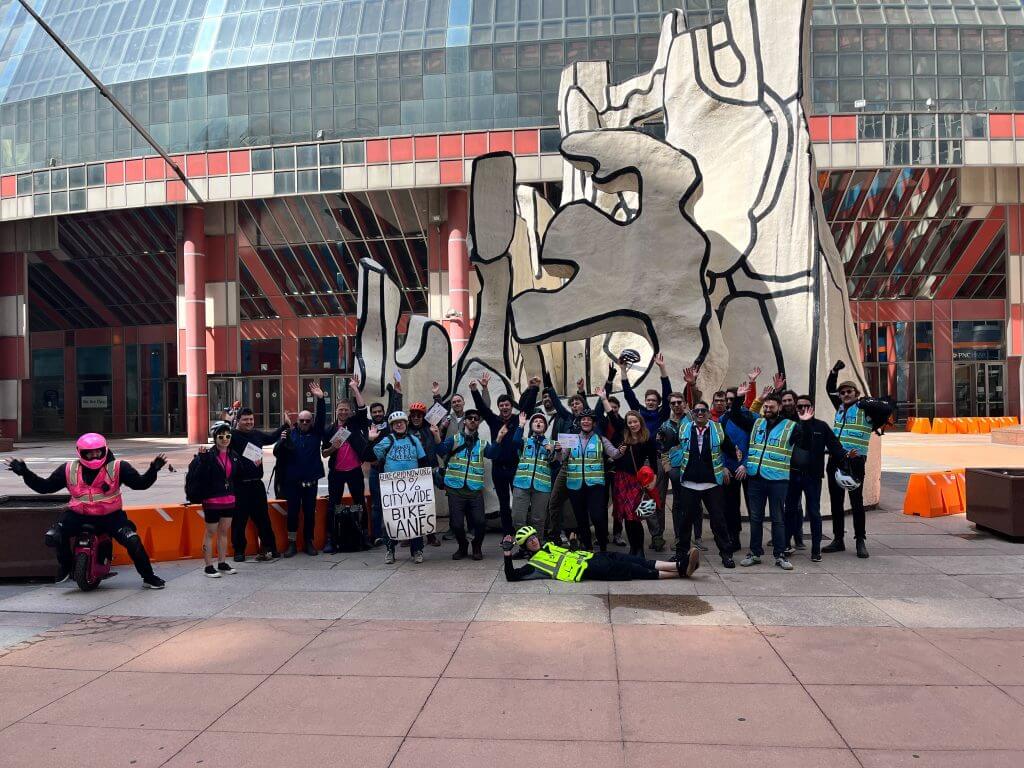 The bike grid represents our goal to create 450 miles of safer streets in Chicago, which is 10% of the city's total streets. Our focus is on prioritizing pedestrians and cyclists while eliminating traffic violence. The bike grid roads include lightly-traveled routes such as residential roads and side streets, and feature a significant amount of traffic-calming infrastructure, a reduced speed limit of 10 mph, and limited vehicle access. This approach is not only affordable and easy to put into action, but it also doesn't require enforcement, making city streets safer for the most vulnerable road users.
By empowering thousands of Chicagoans to be part of Bike Grid Now, our campaign was officially endorsed by Mayor-Elect Brandon Johnson and a significant number of City Council members. But we have much more work to do.
The vision of a safe, vibrant, and connected city depends on achieving a safe and connected bike grid. We welcome any and all Chicagoans to join us to push for achieving that vision this year.
Our values
We make change by empowering everyday Chicagoans to become activists for safe streets.
While we believe that advocacy is useful, our theory of change embraces civil disobedience and other activities that draw attention to the urgent need for safe streets city-wide. The slow rate of change is not acceptable for a city that values safety, sustainability, and quality of life. We can and must do better. For all our activities, we strive to create a positive and welcoming environment.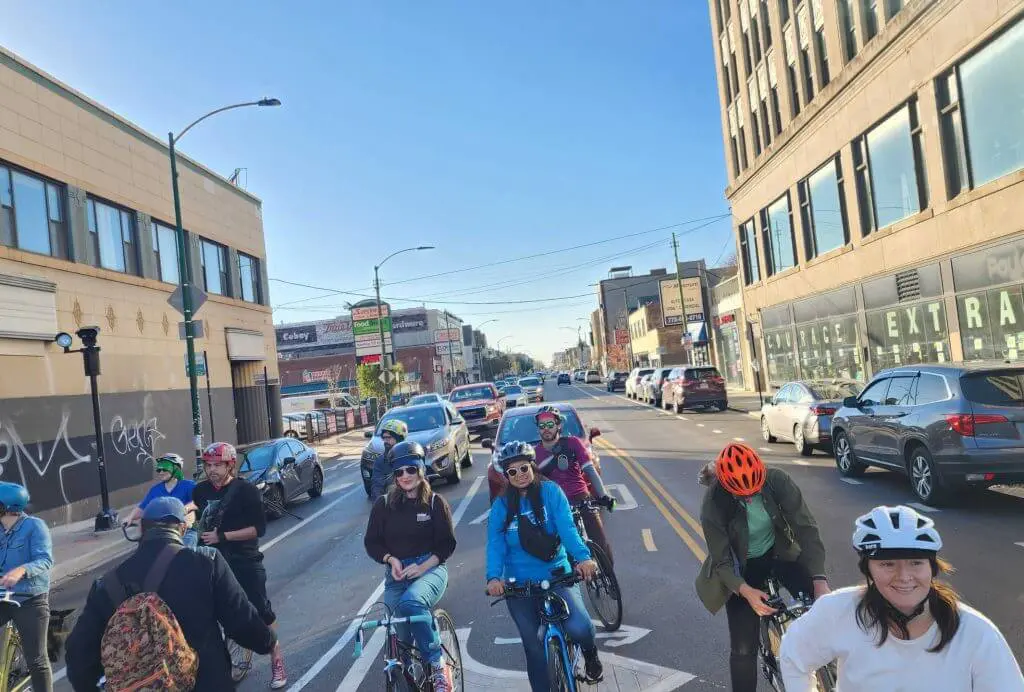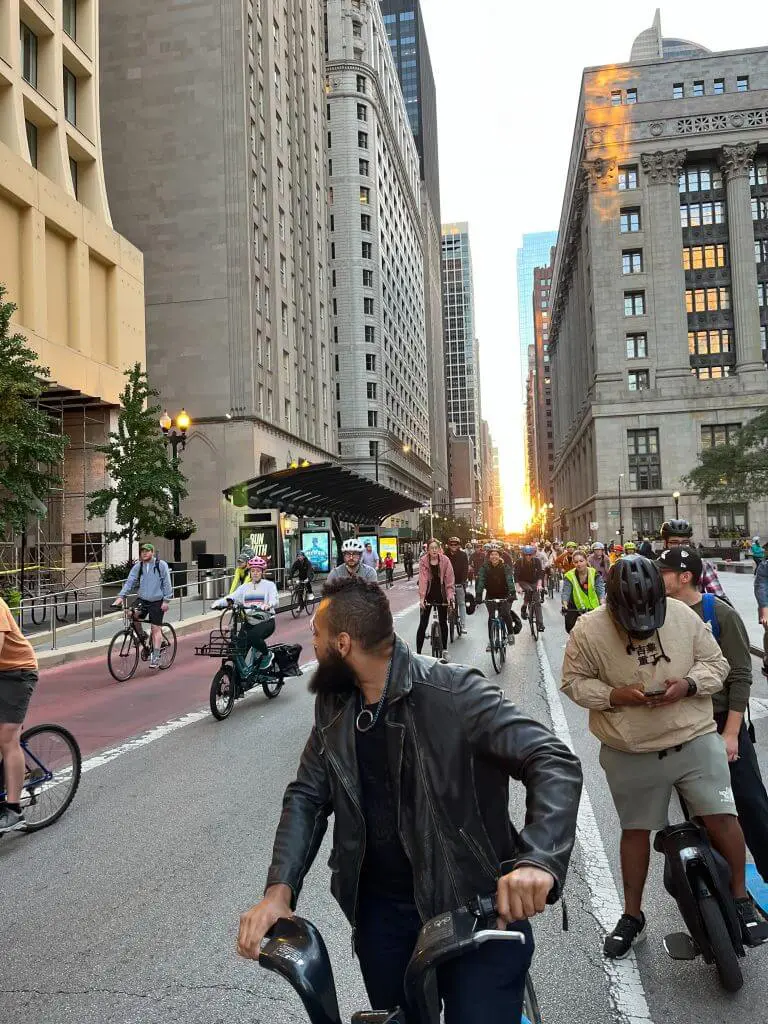 Our mission of 450 miles of bike-friendly streets is a moonshot and it's achievable this year.
We have seen how quickly temporary traffic calming can be installed, and we know the same can be done city-wide when the political will exists. Our role is to close the gap with public support and to create the political pressure necessary to ensure this becomes a reality. We act with urgency and don't accept the notion of waiting patiently for things to change.
We make change through infrastructure.
We believe infrastructure should be the primary and preliminary way to make our streets safer. Permanent infrastructure takes years to engineer, fund, and build; we demand that temporary infrastructure be installed until it can be replaced with permanent changes. We cannot let the perfect be the enemy of the good or the permanent be the enemy of the now.
Want to slow drivers down? Add infrastructure that slows drivers down. Want drivers to stop parking in the bike lanes? Add infrastructure that makes it impossible for drivers to park in the bike lanes.
The most effective way to create safe streets for everyone is by changing physical infrastructure. Material changes must be made to achieve material results. As a collective, we fight for and support infrastructure changes first.
Enforcement cannot and will not create lasting change. We want to prevent actions from happening in the first place, not account for them after they've already happened. The only way of doing that is through creating infrastructure that keeps people safe.
We fight for safe streets for everyone.
We fight for safe and equitable access to mobility for everyone. While our collective's name emphasizes bikes, we do not fight for streets that are only better for cyclists.The past century of car-centric American city design is evidence enough that fighting for only one mode of transportation is not a sustainable nor an equitable solution.
In order to create truly equitable access to streets for everyone, infrastructure that prioritizes the most vulnerable must be built. This includes but is not limited to children, the elderly, and people with disabilities. Streets are for people using all modes of transportation and mobility options.
We fight in an equitable way.
We lead with empathy, compassion, and inclusion. It's important that we achieve our goals in a way that doesn't leave anyone behind. We fight to rectify decades of inequitable distribution of infrastructure resources to the South and West sides. We understand the importance of involving community members and engaging in meaningful conversation on how to improve our city, together.
We use tools, like those identified by the Justice40 initiative, that highlight disinvested areas based on climate change, energy, health, housing, transportation, pollution, wastewater, and workforce development. Most importantly, we work with local communities because no one knows our communities better than the people who live in them.